Watch the world's largest anime library on Crunchyroll. Over 1,000 titles, from past seasons to new episodes fresh from Japan, including critically acclaimed Crunchyroll Originals. Get full access to new shows like Demon Slayer: Kimetsu no Yaiba, Attack on Titan, My Dress-Up Darling, and more. Plus, favourites like One Piece, BORUTO: NARUTO NEXT GENERATIONS, JUJUTSU KAISEN, Black Clover, Naruto Shippuden, My Hero Academia, and JoJo's Bizarre Adventure. Whether you're new to anime or a longtime fan, Crunchyroll has something for you. Crunchyroll Premium is a subscription service that offers ad-free streaming of anime, manga, and other Japanese content. It also offers access to simulcasts, which are episodes that are released the same day as they air in Japan.
The benefits of Crunchyroll Premium include:
Ad-free streaming: You can watch anime and manga without any ads.

Simulcasts: You can watch episodes the same day as they air in Japan.

Offline viewing: You can download episodes to watch offline.
Step 1: Kindly visit the Crunchyroll Official Redemption Site to redeem codes.
Step 2: Please enter the membership code purchased from SEAGM, then click "Continue'.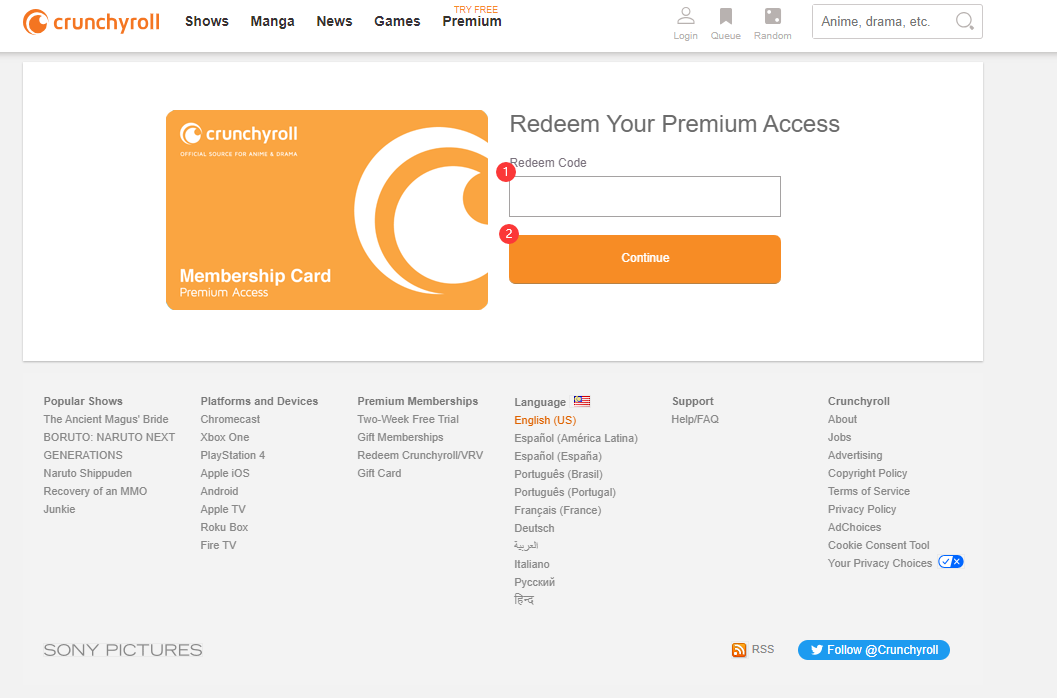 Step 3: You will be requested to login account once click on "Continue". Kindly log in and click "Redeem".
Step 4: Once done, your account subscription will be updated immediately. Besides, you can verify your new membership status under Profile, in Account Type, choose Premium+ Member. Enjoy unlimited ad-free anime from now on!
For more information, kindly contact or visit Crunchyroll Official Helpdesk.
Thank you.
Visit the SEAGM Support site for quick answers and guides.
Need support? Contact our Customer Support via LiveChat.
Related articles:
How to purchase Crunchyroll Premium Subscription [Global] from SEAGM?