Goddess of Victory: Nikke is an immersive sci-fi RPG shooter game, where you recruit and command various maidens to form a beautiful anime girl squad that specializes in wielding guns and other unique sci-fi weapons. Command and collect girls that have unique combat specialties to create your ultimate team! Experience next-level shooting action with simple yet intuitive controls while enjoying dynamic battle effects.
Step 1: Register or log in to SEAGM, then on the top right side of the page, search "Goddess".
Step 2: Select "Goddess of Victory: Nikke Gem" and choose the preferred Gem amount. After choosing, kindly enter the ID, server, and character name. Then click "Buy Now" to proceed.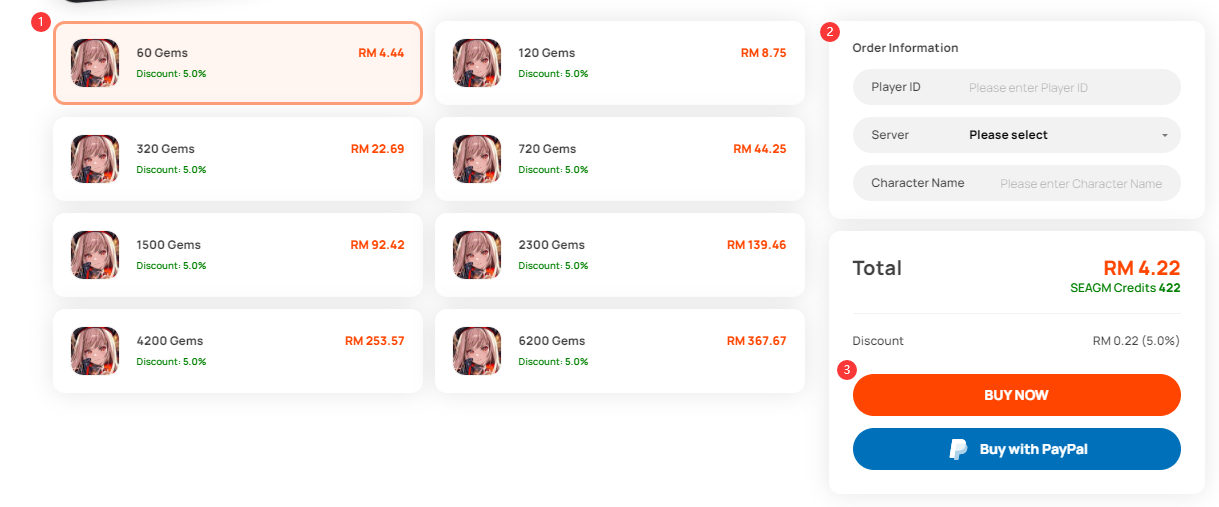 Step 3: Kindly confirm the Gem amount then, click on "Pay Now".

Step 4: Pick your desired payment method and click "Pay Now" to complete your payment.
Step 5: Once payment is completed, you may view your order status, under "My Orders".
Thank you.
Visit the SEAGM Support site for quick answers and guides.
Need support? Contact our Customer Support via LiveChat.
Related articles:
How to top up Apex Legends Mobile Syndicate Gold in SEAGM ?
How to activate Sackboy™: A Big Adventure [Steam] purchased from SEAGM?