About:
SAM Kiosk
SAM started as kiosks to bring our services closer so that you can pay bills, fines, top-ups, buy stamps, weigh your packages, and more even beyond the operating hours of our Post Offices. Today SAM extends beyond kiosks into multi-channel (Kiosks, Web and Mobile) to bring our services even closer and more accessible to you anytime and anywhere. SAM kiosks currently supported payment methods on eNETS Debit, Credit/Debit Cards (Visa/MasterCard), and AMEX.

AXS Kiosk
AXS Kiosk is a one-stop multi-application and interactive self-service terminal that provides you with comprehensive bills and fines payment services, online government e-Services, prepaid top-up, ticketing, and many more. With over 670 AXS Kiosk island-wide operating 24 hours daily, the AXS Station network has grown to be the largest public broadband transactional terminal network in Singapore. Besides, all Kiosk stations accept payments via ATM cards, selected credit cards, and PayNow.

Note:
1. Kindly make sure that NO virtual private network (VPN) has been enabled during checkout.

2. Kiosk AXS and SAM are only supported under Singapore Dollar [SGD] ONLY.
3. Processing fee of 2.2% or min SGD 1.60 will be applied automatically during each checkout.
Step 1: Choose the product you want to purchase on the SEAGM site, then click "buy now".
Step 2: Click on "Pay Now" to be directed to the payment checkout page.

Step 3: On the checkout page, click on "Offline Payment" and select the AXS/SAM Kiosk that you need. Then, click on "Create Payment" to proceed.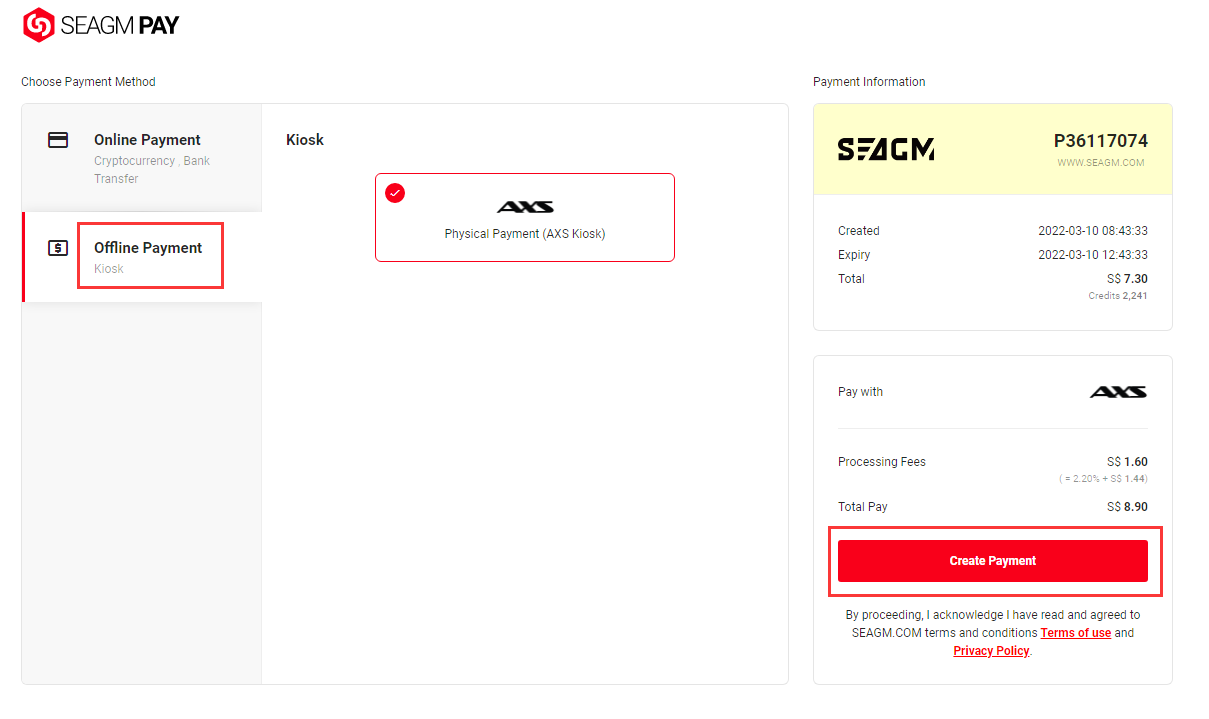 Step 4: The transaction ID and barcode are generated for the order created and should only use for payment ONCE. Kindly move to the nearest kiosk station and pay the amount via the transaction details given.
Note: Kindly select Services and choose Razer Merchant Services to proceed.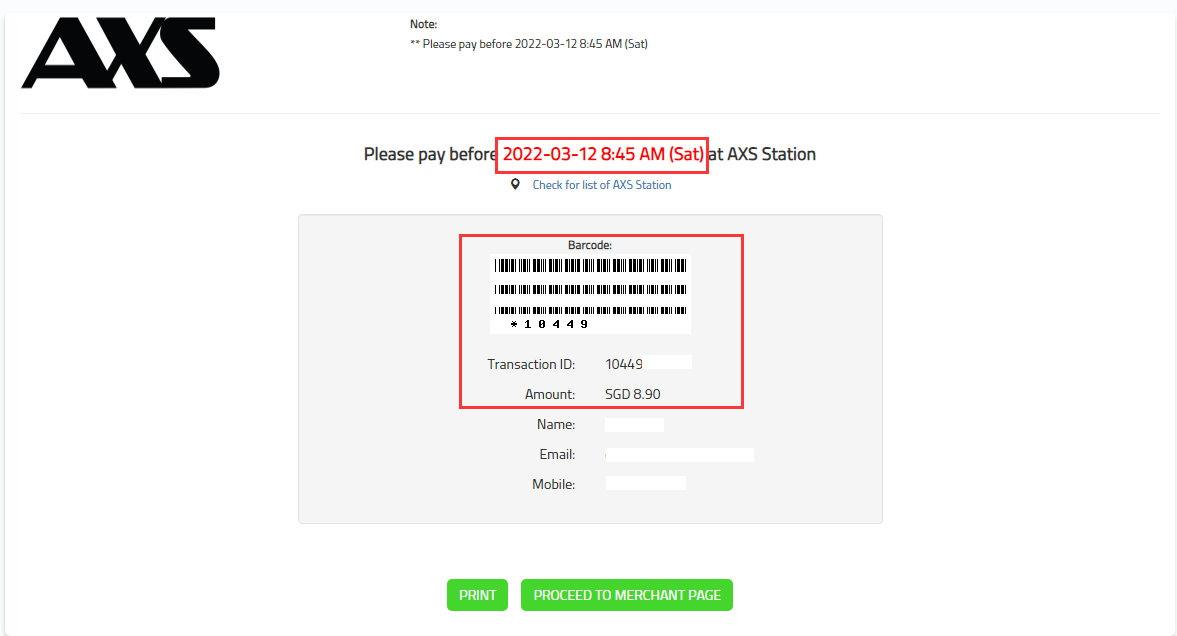 Step 5: Once the payment had been successfully made via kiosk stations, please keep the receipt for reference purposes. Kindly check your order status in your SEAGM profile under "My Orders". Do contact our support team via LiveChat if the status was still under "unpaid".


For any more information on kiosk station payment, kindly refer to the official site of SAM and AXS for further assistance. For AXS-supported service, kindly refer to the AXS e-services site.


Thank you.
Visit the SEAGM Support site for quick answers and guides.
Need support? Contact our Customer Support via LiveChat.
Related articles: