About:
Cryptocurrencies are digital or virtual currencies underpinned by cryptographic systems. They enable secure online payments without the use of third-party intermediaries. "Crypto" refers to the various encryption algorithms and cryptographic techniques that safeguard these entries, such as elliptical curve encryption, public-private key pairs, and hashing functions. SEAGM is now available with cryptocurrency payment options including Bitcoin (BTC), Ethereum (ETH), and Tether (USDT).
Important information:
There will be no refund options on Cryptocurrencies payments. You are responsible for ensuring that the transaction amount keyed in or displayed on your screen is correct prior to confirm the transaction. Once the transaction is confirmed, it will be deemed irrevocable and you will not be able to cancel, stop, or perform a refund to that transaction. There will also be an alert popup for your confirmation before proceeding to finalize payment, for example as below: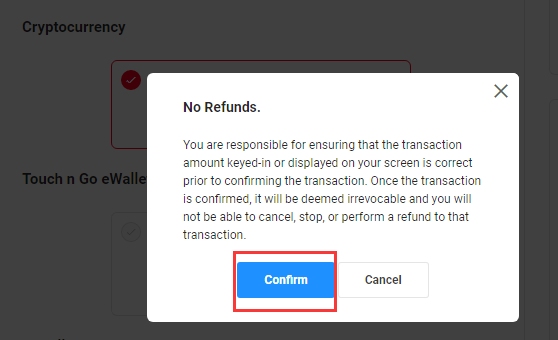 Step 1: Login/register an account in SEAGM.
Step 2: Choose the item you would like to purchase and click 'buy now'. Then at the checkout page, kindly click 'PayNow" to be directed to the next page.

Step 3: At the payment page, select "Online Payment" via the "Transfer Virtual Account" payment method > click on 'Pay Now".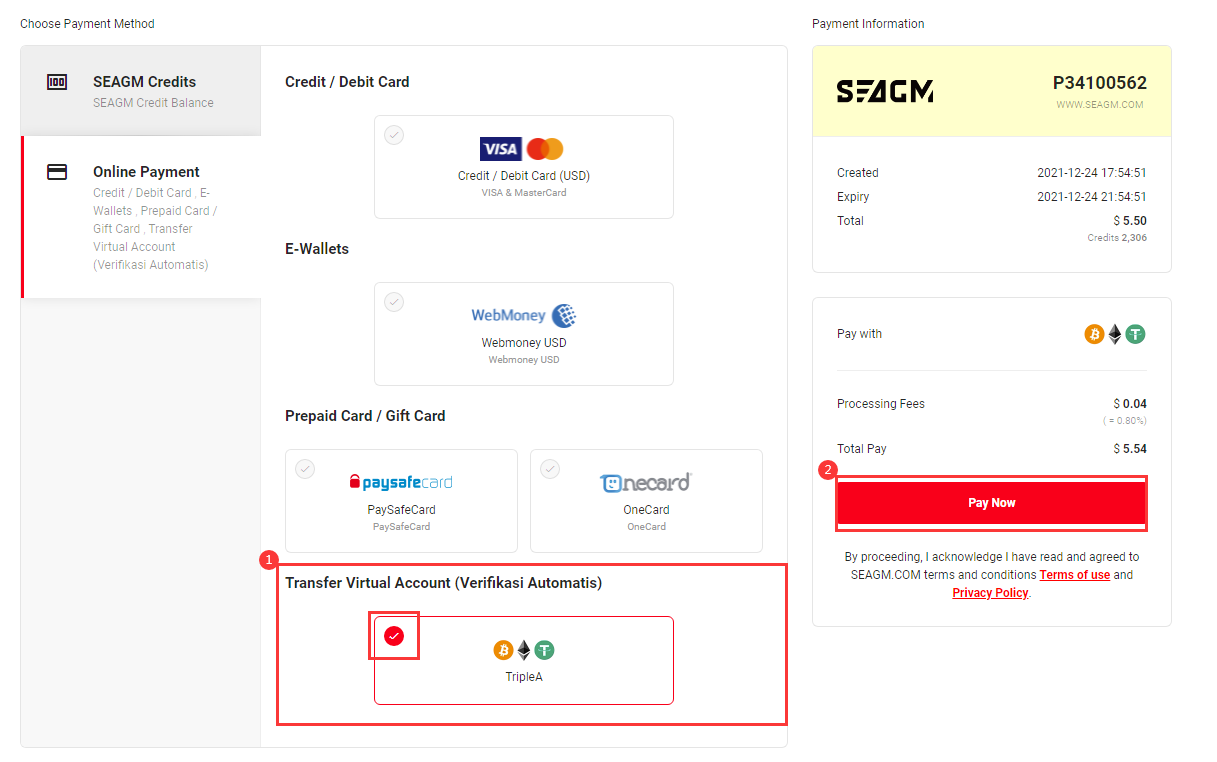 Step 4: You will be redirected to the TripleA checkout page to complete the transaction. You will be given three choices of Cryptocurrency to proceed with final payments.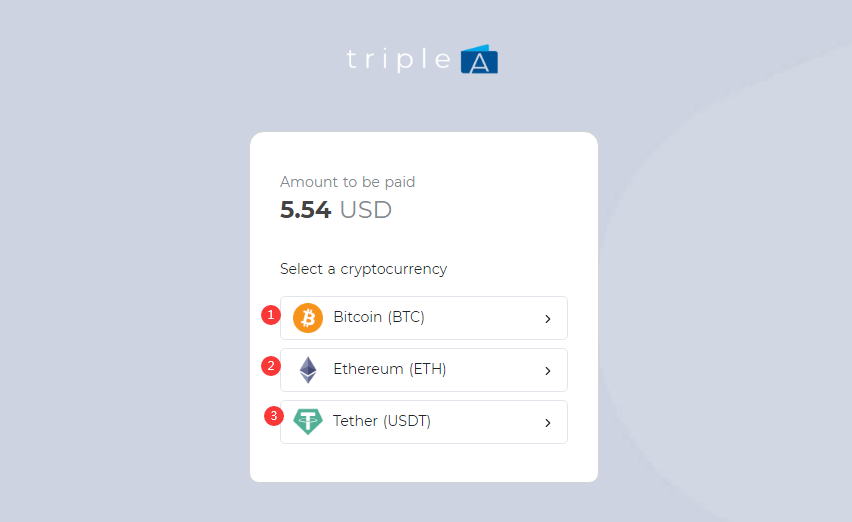 Step 5: Once chosen the Cryptocurrency methods, you will need to enter your Full Name and click on "Proceed". You will then be directed to the payment page, kindly copy the address given or Scan the QR code to complete the transaction.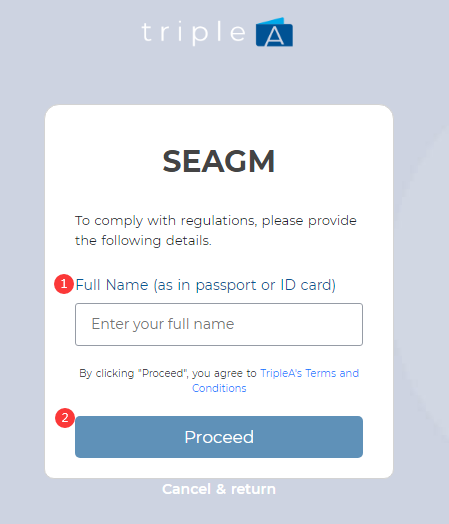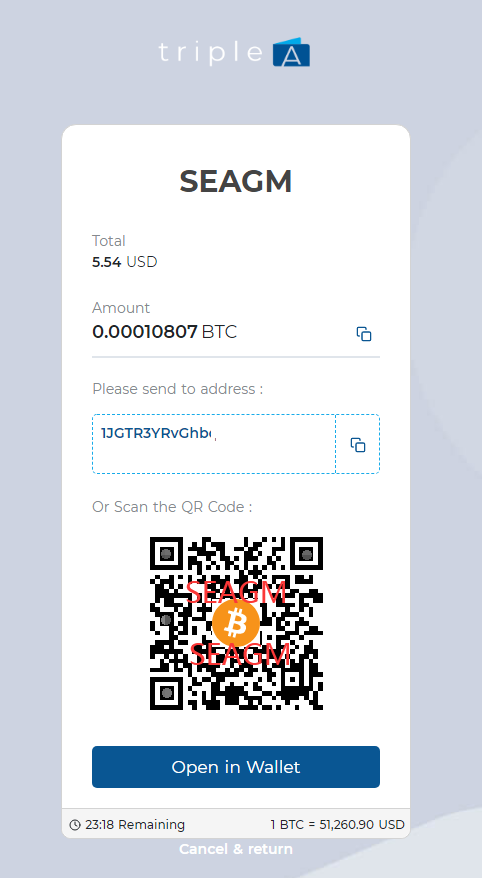 Step 6: Once the transaction is completed, please allow the payment gateway to re-direct you back to our website to fully complete the transaction.
***Note: Please allow our website to fully load once your transaction is completed to prevent floating orders.
Step 7: You may check your order status under "My Orders" or gift card pin code under "My Cards".
Currency supported in SEAGM for Cryptocurrency payment method:
What is Bitcoin (BTC)?
Bitcoin uses peer-to-peer technology to operate with no central authority or banks; managing transactions and the issuing of bitcoins is carried out collectively by the network. Bitcoin is open-source; its design is public, nobody owns or controls Bitcoin and everyone can take part. Through many of its unique properties, Bitcoin allows exciting uses that could not be covered by any previous payment system. For more information, kindly refer to Bitcoin's official support page.
What is Ethereum (ETH)?
Ethereum is a technology that's home to digital money, global payments, and applications. It also lets users send cryptocurrency to anyone for a small fee. Ethereum is open access to digital money and data-friendly services for everyone, no matter your background or location, and no one can take it down. It's a community-built technology behind the cryptocurrency ether (ETH) and thousands of applications you can use today. For more information, kindly contact Official Support for further assistance.
What is Tether (USDT)?
Tether is a blockchain-enabled platform designed to facilitate the use of fiat currencies in a digital manner. Tether works to disrupt the conventional financial system via a more modern approach to money. Tether has made headway by giving customers the ability to transact with traditional currencies across the blockchain, without the inherent volatility and complexity typically associated with a digital currency. For more information, kindly contact Official Support for further assistance.
Thank you.
Visit the SEAGM Support site for quick answers and guides.
Need support? Contact our Customer Support via LiveChat.
Related articles:
What are the payment options available?
What are Payment Processing Fees?
What should I do if the order status was unpaid but the amount has been deducted from my cryptocurrency wallet?