About:
PermataBank (or Bank Permata) is a bank in Indonesia, headquartered in the capital city Jakarta. Permata Bank accepts different virtual transfers and multiple Permata digital payments including mobile-x, e-business, net, store, and much more.
Note: It's ONLY available for Indonesian users using (IDR) currency in SEAGM.
Step 1: Login/register an account in SEAGM.
Step 2: Choose the item you would like to purchase > click 'buy now' > at the checkout page, click "PayNow" to be directed to the next page.'

Step 3: At the payment page, select "Online Payment" > click on 'PermataBank" then "PayNow".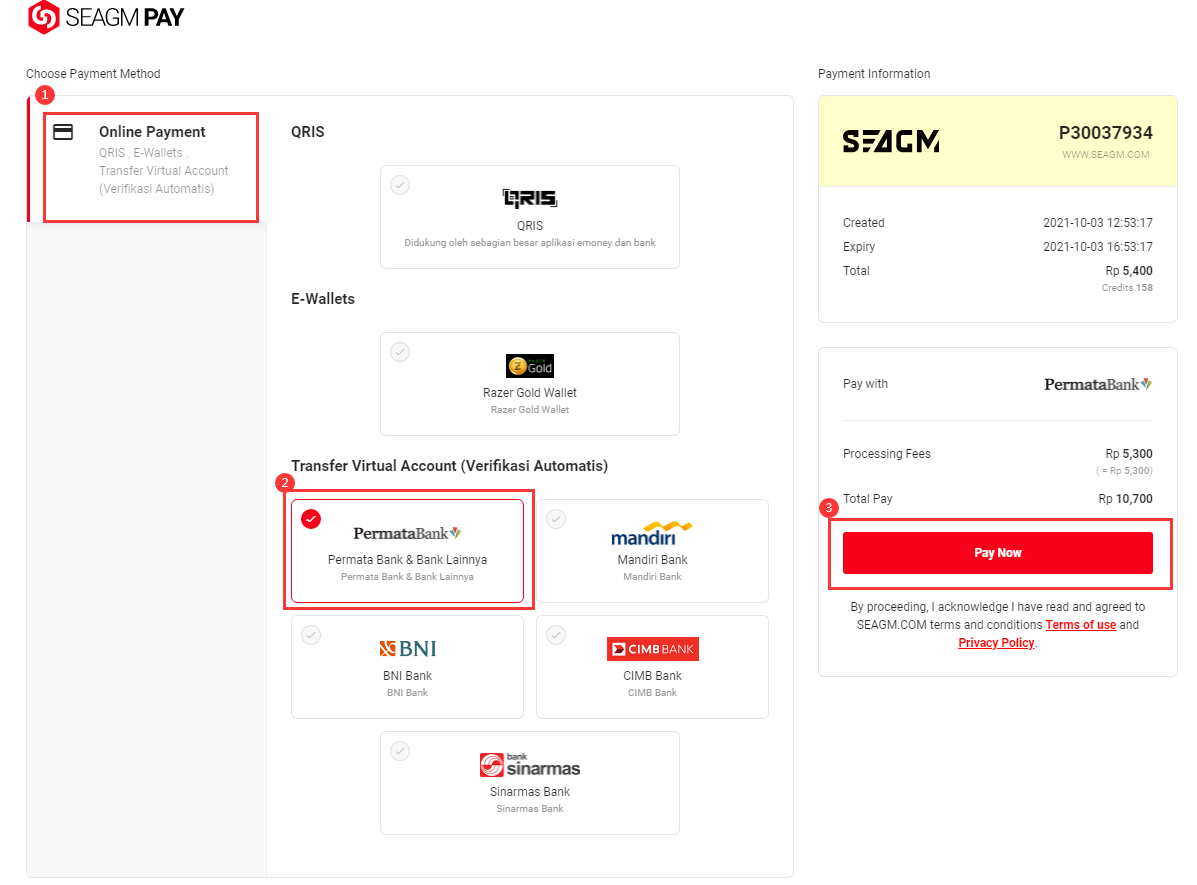 Step 4: The banking virtual account number will be shown once the order is created. You may proceed to make the payment with the number given.
Note: The account number given should ONLY be used ONCE. All created orders will expire in 4 hours. Please complete your payment before that happens.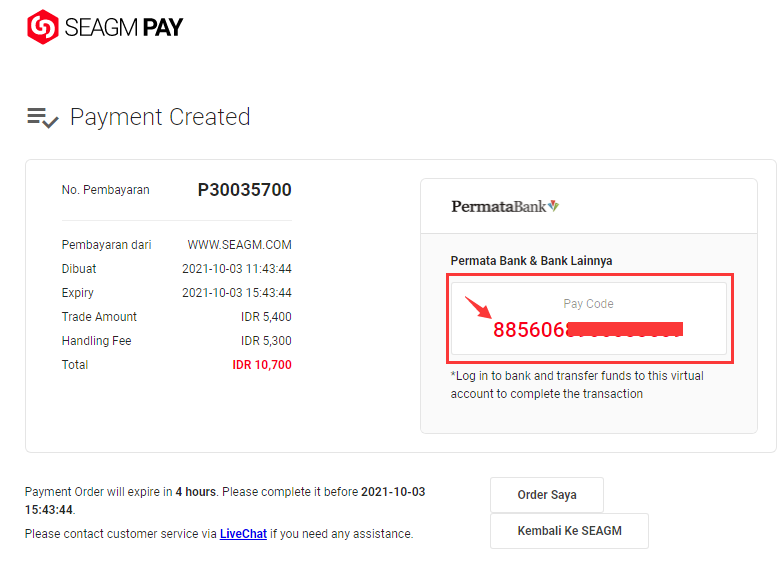 Step 5: You may pay direct via PermataBank Mobile or from other banks.
(a) Via PermataBank Mobile/Web:
Open the application/Web, then log in to the bank account.

Click on Bill payment then choose the virtual account.

Enter the 16 virtual account numbers provided from SEAGM and enter the total price shown on the final checkout page.

Once submitted, the payment confirmation will appear, then kindly enter the transaction authentication/token to finalize the payment.

Your payment is completed once the token is entered and authorized.
(b) Via other banks:
Log in to the bank account and choose other transactions.

In the menu, choose "KE REK BANK LAIN" (other banks payment).

Then, enter Bank Permata passcode (013) then press TRUE/BENAR.

Enter the virtual account numbers provided from SEAGM on the checkout page, and press YES/BENAR.

Enter the payment amount "total" as shown on the SEAGM checkout page.


Choose TRUE/BENAR to approve the transaction.
Step 6: Once payment is successfully made, the order will be processed automatically. You may check your order status under "My Orders".
Thank you.
Visit the SEAGM Support site for quick answers and guides.
Need support? Contact our Customer Support via LiveChat.
Related articles:
How to pay using QRIS in SEAGM?

Payment with Virtual Account(VA)