Note: Check out for new updates of your most recent submitted orders in the SEAGM account. A red dot at User Profile/Notifications is indicative of new messages or real-time notifications of your orders.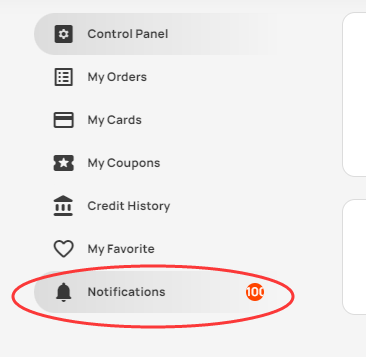 1. After payment is made, will the code be delivered in physical or digital ways?
All codes will be delivered directly into your SEAGM account once your payment has been successfully completed and it's ALL in a form of digital codes.
2. How long will I need to wait for the digital code delivered to me?
All gift cards will be instantly delivered or within [1-15 minutes] once paid except those under Pre-Order or Out of Stock category gift cards. Once the order has been completed, customers will be notified via email of the delivery of their purchase. You may check with our Customer Support via LiveChat for stock availability before proceeding with the purchase.
3. How should I retrieve the code once payment is made?
To retrieve your gift card code/pin, kindly log in to your SEAGM account. Then, to the "My Cards" section and then enter the password you used to login into your SEAGM account then click the "Retrieve" button and your code will be displayed on the screen.
Note: If you log in using any social media, we would suggest you reset your password in order to create the password for your SEAGM account. You may also check the related articles on resetting passwords attached below this article.
4. If I want the code to be delivered via email, will it be possible?
No, you're required to access the card list in your SEAGM account to view the code/PIN you bought and only an order confirmation email will be sent via the email linked with your SEAGM account.
5. If I want a picture of a physical card, will I be able to make a request for it?
You may check with our Customer Support via LiveChat and you'll be provided with a form to request the picture of the physical card you bought.
Note: Please take note that only certain gift cards are available with physical card pictures.
6. Can I make a purchase and request the digital code to be sent to another SEAGM account?
No, the code will only deliver to the account which you used to make the purchase and please be mindful our system only recognizes one account from each user. If the system detects that you have created more than 1 account, all related accounts will be suspended.

7. Is there any expiration date for the digital code sold by SEAGM?
Yes, there is an expiration date for all codes/PINs sold by SEAGM, make sure you use it before that happens or purchase it when you need it. It's not advisable to keep the code/pin once payment and code have been made. SEAGM would not take any responsibility if such cases happen.
8. Are the code reusable once redeem?
No, all codes/PINs sold by SEAGM are ONLY redeemable ONCE. Kindly redeem the purchased code in full amount. SEAGM would not take any responsibility if there's any leftover balance on the card after the partial redemption.
Thank you.
Visit the SEAGM Support site for quick answers and guides.
Need support? Contact our Customer Support via LiveChat.
Related Articles:
How to get the password to retrieve the gift card code if my SEAGM account was linked with social media?
FAQs: Game/Gift Card Code Error During Redemption.