About Heroes Evolved
Heroes Evolved, a balanced competitive mobile game of action and strategy for true gamers. Select from a pool of 40+ unique heroes and jump into teams - Eternals vs. Ancients - to battle against real rivals on gorgeous fantasy maps. This game will take all your skill, teamwork, cunning, and strategy to survive and succeed!
Note: Not all card types/denominations allowed for Conquer Online/mobile reload. Kindly have a check on the official site before making any purchase.
Step 1: Once completed the purchase from SEAGM, kindly retrieve your game card code in "My Cards".
Step 2: Visit the Heroes Evolved official site to redeem the code purchased.
Step 3: Kindly choose the payment method as "HitPoints" and platform (iOS/Android).

Step 4: Choose the server and also enter your game account ID correctly. Then select the right products that match with the card purchased in SEAGM.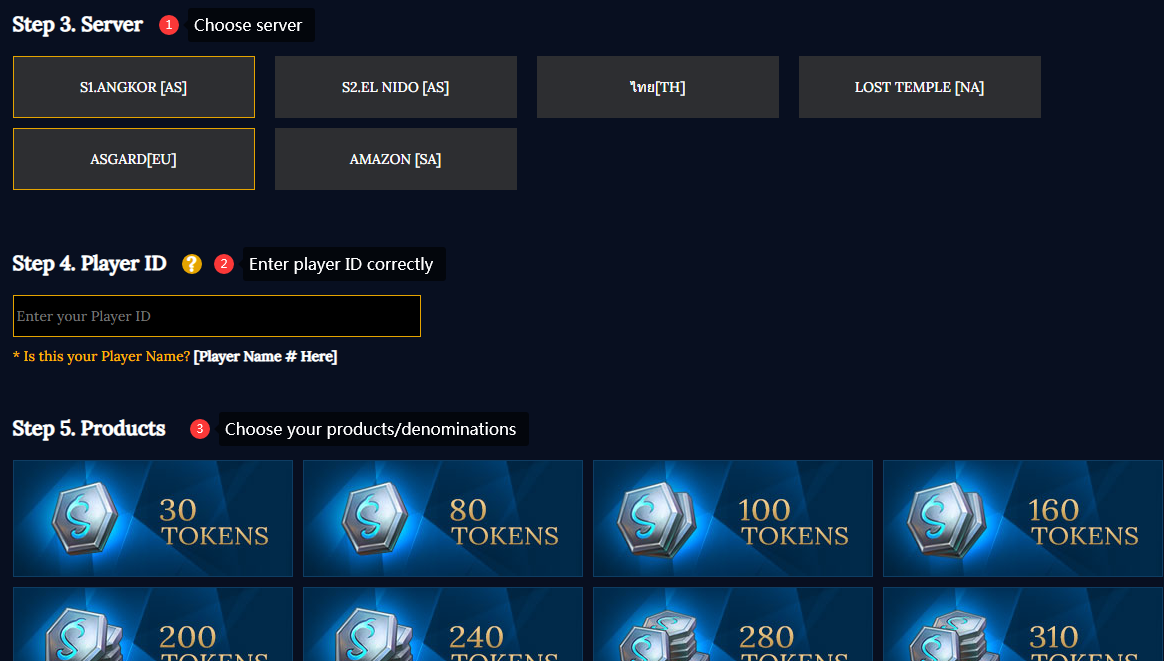 Step 5: Enter your email address and click "Confirm".

Step 6: Enter your Point Card ID and Point Card Password purchased in SEAGM and completed the transaction.
Step 7: Once the transaction is completed, you will receive game points directly in the game.
HitPoints Exchange rate for Heroes Evolved:
HitPoints 0.32 USD > 30 Tokens
HitPoints 4.99 USD > 500 Tokens
HitPoints 0.79 USD > 80 Tokens
HitPoints 5.99 USD > 600 Tokens
HitPoints 0.99 USD > 100 Tokens
HitPoints 9.99 USD > 1200 Tokens
HitPoints 1.59 USD > 160 Tokens
HitPoints 12.79 USD > 1540 Tokens
HitPoints 1.99 USD > 200 Tokens
HitPoints 15.89 USD > 1950 Tokens
HitPoints 2.39 USD > 240 Tokens
HitPoints 19.99 USD > 2500 Tokens
HitPoints 2.79 USD> 280 Tokens
HitPoints 31.79 USD > 4040 Tokens
HitPoints 3.19 USD > 310 Tokens
HitPoints 49.99 USD > 6500 Tokens
HitPoints 99.99 USD> 14000 Tokens
Thank you.
Visit the SEAGM Support site for quick answers and guides.
Related articles:
How to buy HitPoints USD at SEAGM?
How to retrieve purchased Code/Pin?
How to find Code/Pin on SEAGM App?