About:
Financial Process Exchange (FPX) is a Malaysia-based payment method that allows customers to complete transactions online using their bank credentials. FPX is a convenient and secure online payment solution that allows real-time debiting of customers' internet banking accounts of multiple banks. It also allows direct crediting from users' savings/current accounts into a merchant's account by banks immediately. FPX service is suitable for all businesses that offer products or services via the internet 24/7.
Step 1: Choose the product you would like to purchase on the SEAGM site, then click "buy now".
Step 2: Click on "Pay Now" to be directed to the payment checkout page.

Step 3: On the checkout page, click on "Online Banking" and select the bank that you need. Then, click on "PayNow" to proceed.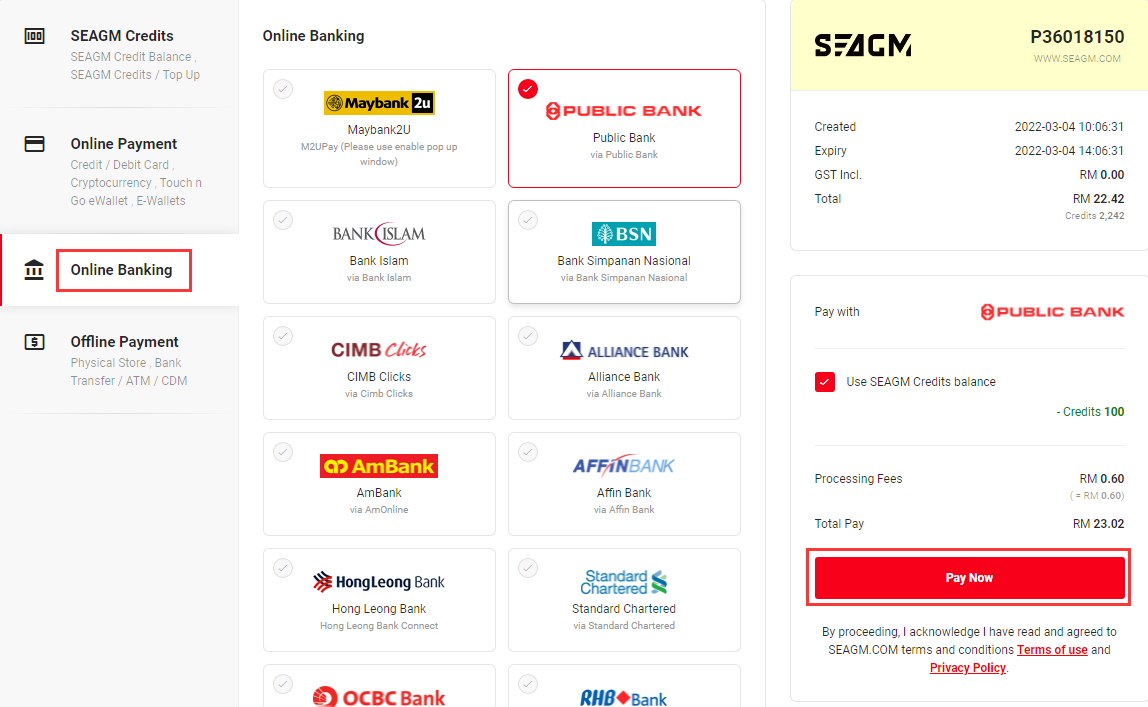 Step 4: You will be directed to the bank payment page. Kindly enter your bank login credentials and proceed with the final checkout.
Step 5: Once the transaction is completed, please allow the payment gateway to re-direct you back to our website to fully complete the transaction.
***Note: Please allow our website to fully load once your transaction is completed to prevent floating orders.
Step 6: You may check your order status under "My Orders" in your account profile.
Thank you.
Visit the SEAGM Support site for quick answers and guides.
Need support? Contact our Customer Support via LiveChat.
Related articles:
How to make payment via VISA&MasterCard (MYR) in SEAGM?
Payment via Touch n Go e-Wallet