NganLuong.vn is a pioneer and leading online payment gateway and e-wallet in Vietnam, both in terms of products and services, market coverage and payment flow. Developed by Nexttech Group (formerly known as PeaceSoft Group) in 2009, NganLuong allows individuals and businesses to send and receive payments on the Internet quickly, safely and conveniently. NganLuong.vn operates under the e-wallet model, whereby users can register for personal or business accounts with 3 main functions: Recharge, Payment and Money Transfer. All transactions are done online via Domestic ATM Card, International Card (Visa, Master, JCB, Amex), Internet Banking, QR-Pay and other convenient forms.
Note:
1. A processing fee of 3% will be applied automatically during each checkout. Fees vary and may change from time to time.
2. The NganLuong [VND] payment method is ONLY supported under Vietnamese dong [VND].
Step 1: Choose the item you would like to purchase then, click 'Buy now'. At the order confirmation page, click "pay now" to be directed to the next page.

Step 2: At the checkout page, select 'Online Payment' and NganLuong under the E-Wallet section, then click on Pay Now to proceed.
Step 3: Once clicked, you will be directed to the NganLuong payment page. Kindly check on the order amount and proceed with the Nganluong account login. Enter your email, password, and verification code as shown, then click "Login".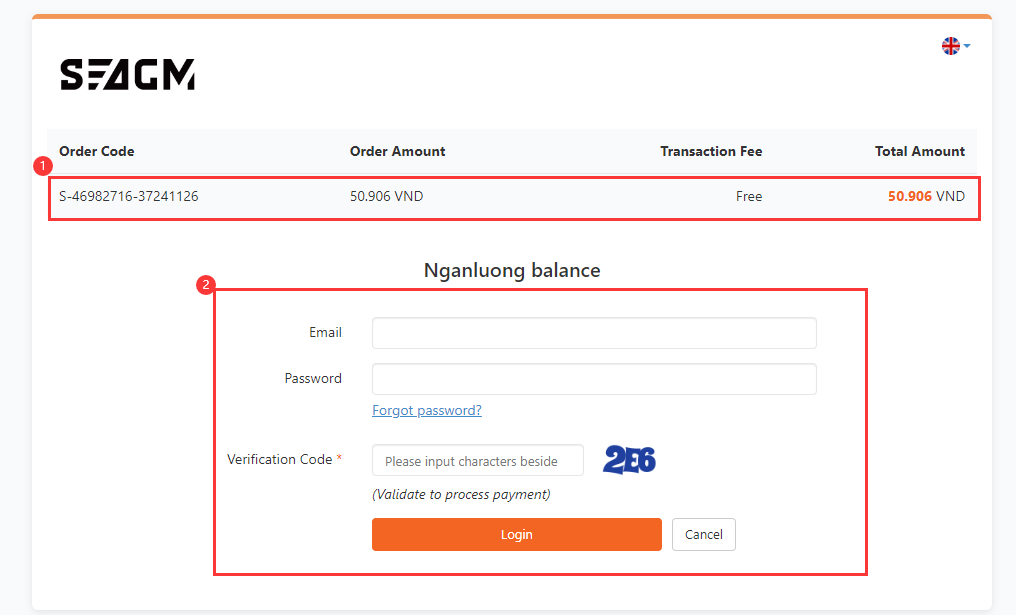 Step 4: Kindly follow the on-screen instructions to make the payment. Once the transaction is completed, please allow the payment gateway to re-direct you back to our website to fully complete the transaction.
***Note: Please allow our website to fully load once your transaction is completed to prevent floating orders.
Step 5: Your order will be processed automatically once our system receives the amount. You may check it under "My Orders" from your profile.
Thank you.
Visit the SEAGM Support site for quick answers and guides.
Need support? Contact our Customer Support via LiveChat.
Related articles:
How to pay using a Credit/Debit Card via Stripe in SEAGM?