TeraBox is an innovative cloud storage application that protects all your files on your devices, organizes your files, and utilizes powerful AI technology to help you quickly back up and search for photos. With TeraBox, we bring you the future of data backup and cloud storage. With TeraBox, you can store approximately: over 3,000,000 photos, more than 2500 video files, or 6.5 million document pages. You can securely backup, sync, access, and share your important content. Anyone can upload and transfer files to TeraBox and share them with friends and family. Back up photos, videos, documents, and other files to cloud storage, and access files synced with any computer or mobile device anytime, anywhere!
Step 1: Login/register an account in SEAGM. On the top menu, enter the keywords "Terabox" and search. Select "Terabox Premium Subscription [Global]".

Step 2: Select the duration then, enter the quantity and click "buy now" to proceed.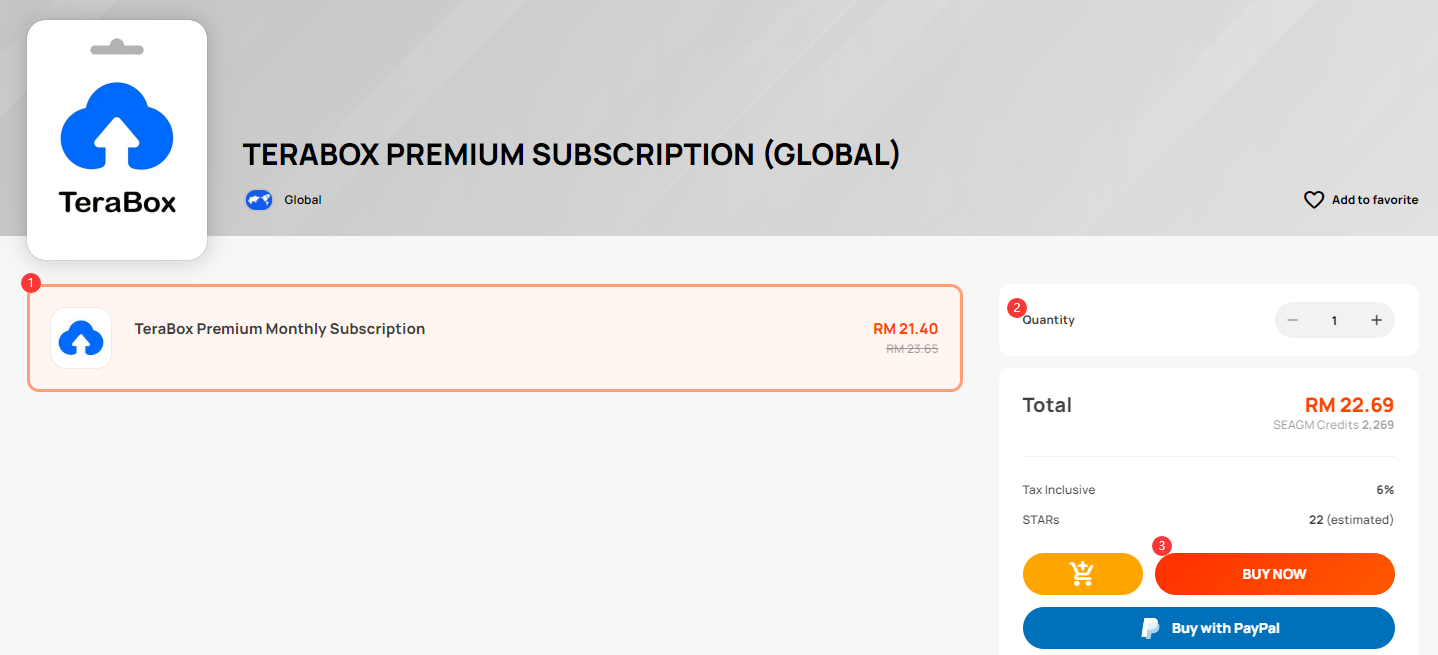 Step 3: Kindly confirm the duration and quantity selected then click " Pay Now" once confirmed.

Step 4: Select your desired payment method and click "Pay Now" to complete your payment.
Step 5: Once payment is completed, you may retrieve your code under your User profile in My Cards. For Pre-Order products, it might take a few working days for the card to be delivered.
Simple steps to redeem the purchased code:
1. Enter the personal center, click on "Welfare Center",
2. In the "Welfare Center", click on "Use redemption code to get VIP status" to enter the Gift Card Redemption Center.
3. On the "Gift Card Redemption" page, enter the redemption code without distinguishing between uppercase and lowercase letters to unlock TeraBoxVIP.
4. Once done, the subscription will be automatically reflected in your account.
For more detailed information, please refer to Terabox Official Help Center.
Thank you.
Visit the SEAGM Support site for quick answers and guides.
Need support? Contact our Customer Support via LiveChat.
Related articles:
How to purchase an ExitLag Subscription in SEAGM?
How to redeem the ExitLag Subscription code purchased from SEAGM?