Important Note:
[a] Please do not submit any personal information about yourself to anyone claiming to be from SEA Gamer Mall Sdn Bhd ("SEAGM"), nor respond to any communications from anyone other than the SEAGM Official Site.
[b] Please do not upload your personal information to any public converter site such as postimages, Imgur and much more. If you have difficulties submitting the documents, kindly contact our Customer Support Team via LiveChat [24/7] for further assistance.
1. What is the SEAGM account identity verification and why do I need to go through the process?
SEAGM account verification is basically on identity card and payment verification before completing the payment order process. This verification process is required to avoid possible online fraud or scams, credit card theft and unauthorized access to one's payment accounts such as Credit Cards, PayPal and E-wallets which are very common nowadays due to users' lack of sense of security. Documents are one effective way to identify and verify that the payment was made by the user. This verification process acts as extra protection for the user as well as SEAGM.
2. When do I need to perform identity verification?
You will be required to verify your identity when your payment is flagged by our fraud solution system, your account is suspended, or our system detects suspicious activity on your account. However, if you have any doubts, kindly contact our customer support team via LiveChat for confirmation before submitting the requested verification documents.
3 . I was being requested to perform identity verification to get my payment order completed or account uplifted, is the verification process secure? If yes, how were my submitted documents stored and used?
We value your trust in providing us with your personal information. SEA Gamer Mall Sdn Bhd ("SEAGM") does not share, disclose or sell any personally identifiable information [such as your name, address, mobile number or e-mail address] that was collected online on SEAGM's sites with other unaffiliated companies or organizations for non-SEAGM marketing purposes. Because this information is a critical part of our business, it would be treated like our other assets in the context of a merger, sale or other corporate reorganization or legal proceeding. For more information about how we keep your data secure, do visit the SEAGM Privacy Policy page.
4. I agreed to fulfil the SEAGM account identity verification process, how does it work?
You'll be prompted when you access to SEAGM account and there will be two types of identity verification available such as:
i. Full identity verification
ii. Reverification
[i] On full identity verification, you will need to go through a few sequential steps:
Take a selfie by holding a passport/identity card with a written note of【SEAGM+DATE】, example as follow below: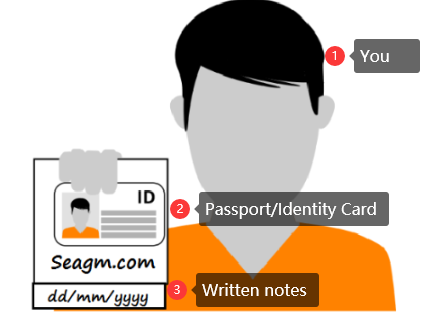 Proof of payment purchase history/receipt 【Only if necessary】

Bank statement 【Only if necessary】
[ii] On re-verification, an additional step will be required:
You're only required to resubmit the requested documents.
5. I do not have an identity card/passport with me, can I use a driving license instead?
No, a driving license is not accepted. However, you may submit the documents later when the identity card/passport is ready with you. Acceptable and not acceptable documents are as listed:
[i] Acceptable documents for Identity verification:
Identity Card,

A valid Passport,

Permanent Resident Card.
[ii] Not acceptable documents for Identity verification:
Expired Identity Card/Passport,

A non-government-issued card such as a student ID, bank card, Company Badge etc.,

Driving License,

The document that is covered or edited.
6. Is there any suggestion for the verification process to be approved in the shortest time possible?
Yes, of course. We will suggest you,
To take off your glasses or mask,

To make sure that your face is visible in the selfie,

To make sure that the documents submitted were clear and readable,

To make sure that the submitted documents were not blurry,

To not edit the picture.
7. On the written notes in the selfie section, if I do not have paper or a pen with me, can I choose to edit the notes 【SEAGM and Date】 in the picture once I have taken a selfie of myself with the identity card instead?
No, this is not acceptable. We will encourage you to submit it later once you have paper and pen with you, or you may use another device to write the notes and take a selfie with it as follow the requirement on 4 [i].
8. The SEAGM identity verification form had been submitted accordingly, how long does it take to approve?
Once you had submitted the required documents, it usually takes around a few minutes to 24 hours time depending on the issue. During the review verification process, all of your purchased orders will be placed on hold and this includes your SEAGM account. You will be notified via email or LiveChat once it's reviewed and approved by the team.
9. My account is suspended and I was being requested to submit the identity verification documents in order to uplift the account. If I choose not to expose my personal identity, what will happen next?
If the verification process was not fulfilled, your account will remain suspended and you're not able to make any purchase in SEAGM until the verification process is completed.
10. If I refuse to complete the verification process and I had made payment in SEAGM, what will happen to my payment order?
You may contact our LiveChat support for further checking on the order. Our team will proceed with a refund back to the original payment method used. However, to refund your payment back to the original payment method used, the processing/handling fees incurred by certain payment merchants will not be included such as Credit Cards and much more.
11. My issue was not listed above, where should I get further assistance from?
No worries. You may directly contact our Customer Service Team [24/7] via LiveChat.
Thank you.
Visit the SEAGM Support site for quick answers and guides.
Need support? Contact our Customer Support via LiveChat.
Related articles:
FAQs: SEAGM STAR Rewards Program.
FAQs: Direct Top-Up Order Issue In SEAGM.
FAQs: Game/Gift Card Code Error During Redemption.