About Audition AyoDance:
Audition AyoDance is an Online Dance Battle Game, where you and your friends throughout Indonesia can meet and compete online. Various kinds of interesting song variations can be selected in the AyoDance Audition, ranging from Pop, R&B, Hip Hop or even Techno, and of course also songs from foreign artists. You also have the opportunity to visit AyoDance Fashion Mall, a place where you can freely express your dancers with cool avatars. With a very easy way of playing, you can already do hundreds of cool and fantastic dance moves, such as the TOP dancer moves of idol artists, or romantic dance moves with your partner.
Step 1: Once completed the purchase from SEAGM, kindly retrieve your game card code in "My Cards".
Step 2: Kindly login to your Megaxus ID account, then click on the "Dompet Gue" icon on the top left of the screen, then choose the "Megaxus Voucher" payment method.
Step 3: Enter your purchased "Voucher Code" and "Voucher Password" then click "Game" and select "Audition AyoDance". Click "Continue" to complete the charging process.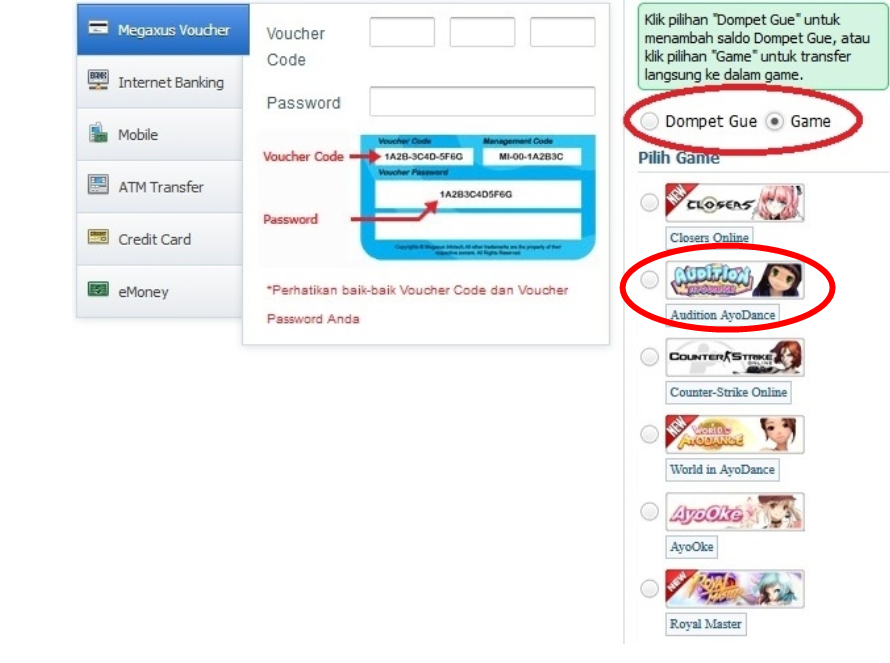 Step 4: Once the transaction is completed, you will receive game points directly in the game and a successful confirmation page will be shown to you.
Thank you.
Visit the SEAGM Support site for quick answers and guides.
Need support? Contact our Customer Support via LiveChat.
Related articles:
How to retrieve purchased Code/Pin?